FOUR-PEAT
Lynx clinch NCC title with 21st straight league win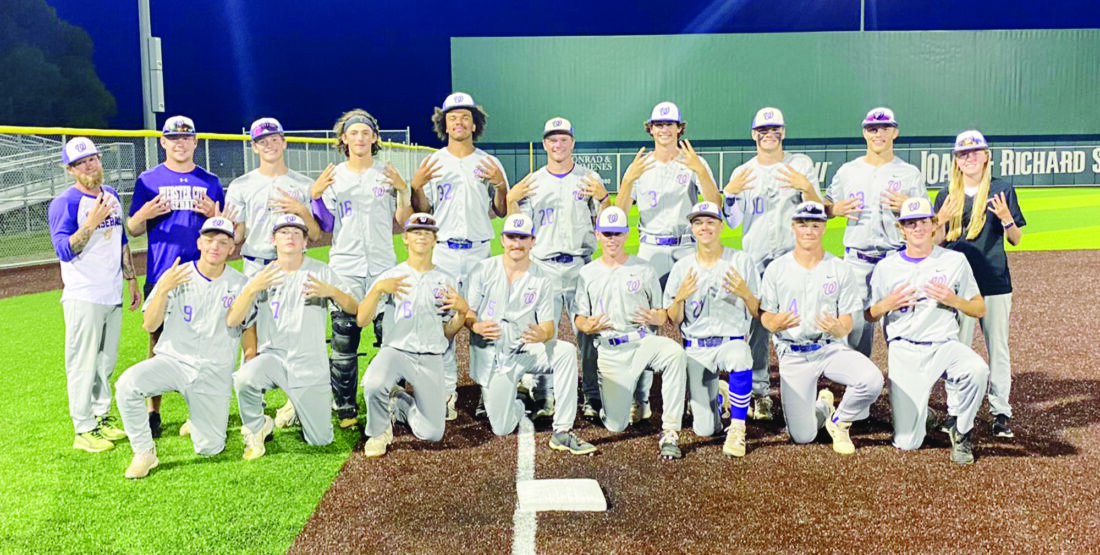 FORT DODGE — Head coach Adison Kehoe was asked if there is secret to his program's success after Webster City clinched its fourth consecutive North Central Conference baseball championship outright on Wednesday at Rogers Park.
"I think more than anything, there's an expectation of accountability," Kehoe said after the Lynx posted a 15-3 victory over St. Edmond. "The guys always hold each other accountable. And not just the seniors. Everyone says you need a senior-led team, and while I don't necessarily disagree with that, everyone in our dugout has ownership over what's going on. You can't just count on (the upperclassmen). They all have to be committed to each other, and to their credit, they have been.
"As I've said before, (defending the NCC crown) has been a goal of ours since we first started talking about (the 2022 season) in the winter. It's not easy, given we graduated a lot of really good players and we carry a target on our backs every night facing a really tough schedule. But we stayed the course."
The Lynx (19-7 overall, 12-1 in the league) had 12 hits and took advantage of eight errors by the Gaels (6-16, 4-10) in winning their fifth straight game as a response to a loss to Clear Lake on June 20. Webster City has now plated 47 runs in its last three contests alone.
A four-run first inning and two-run second set the tone on Wednesday. Zach Dyvig, Briar Klaver, Connor Hansen and Josh Stansfield all had RBI in the opening frame, while Klaver's two-run single made it 6-0 one inning later.
Up 7-0 in the fourth, starting pitcher Devon Stoakes helped his own cause with a two-run single. CJ Hisler followed with an RBI single of his own.
St. Edmond avoided the mercy rule in the fifth by finally getting to Stoakes (7-2) and scoring three times. That only allowed the Lynx to answer with four more of their own in the top of the sixth, as Hansen, Stansfield, Matthew Tesdahl and Dyvig recorded base hits.
Webster City had seven unearned runs.
Stoakes wasn't necessarily at his best, but the senior weaved in and out of trouble unscathed through the first four innings. The Gaels stranded 12 runners in all, including the bases loaded in the first and two on in both the second and fourth against Stoakes.
"He's just a tough competitor," Kehoe said of Stoakes. "He didn't have many varsity innings coming into the year, but he'll battle like a senior out there and he's earned the right to be up there as one of our top starters. And he'll be the first to tell you he doesn't do it alone…until the last inning, our defense behind him only had one error, which isn't bad considering the way Mother Nature was acting up with (swirling winds)."
Ty McKinney CJ Hisler, Stoakes and Klaver had two hits each for Webster City, which has now taken the NCC crown five times in the last six summers. Klaver drove in three, with Stoakes and Dyvig both knocking in a pair.
Tyler McDowell ripped a two-run double off the new "Green Monster" in left field for St. Edmond. John Nemmers tripled and scored, while JT Laufersweiler added two hits.
"We just couldn't get that breakthrough hit early on with runners on," Gael head coach Mike Szalat said. "I thought we had some quality at-bats and put ourselves in a position to make something happen against a first team all-conference player in Stoakes, but he kept us in check and got out of those innings.
"You can't give (an opponent) of this caliber extra outs. We battled back and (extended the game into the sixth inning). Our guys won't quit. Just too many errors and too many stranded runners."
WEBSTER CITY 15, ST. EDMOND 3 (6)
Webster City 421 044 — 15 12 3
St. Edmond 000 030 — 3 7 8
WP–Devon Stoakes (6.2 IP, 7 H, 3 R, 3 ER, 6 BB, 3 K). LP–Tyler McDowell (1-4; 2 IP, 6 H, 6 R, 4 ER, 2 BB, 1 K). 2B–WC: Tyler McKinney, Keegan Hisler; SE: Tyler McDowell. 3B–SE: John Nemmers. SB–WC: Connor Hansen; SE: Drew Szalat. DP–Webster City 1.