CHAMPS ARE REWARDED
Shannon and Tanner collect first-team all-NCC?honors for Lynx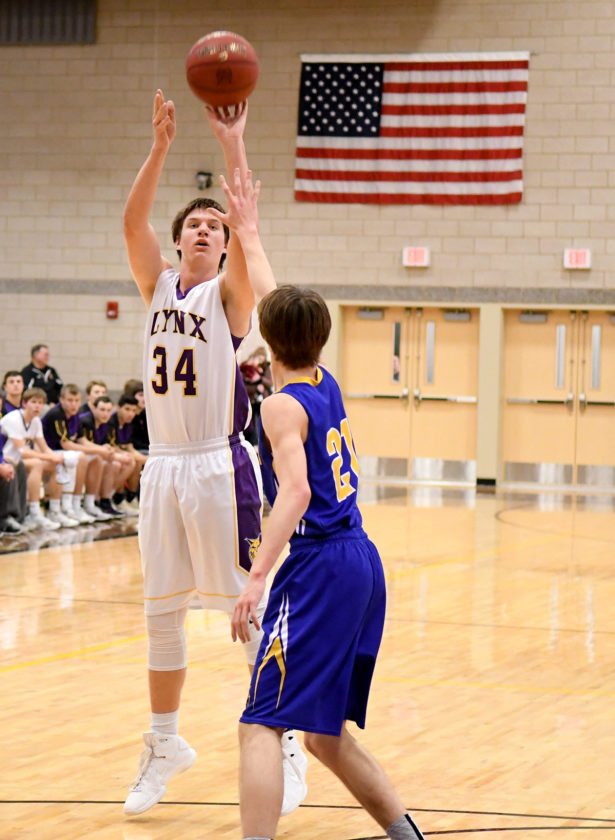 WEBSTER CITY — They led Webster City inside the paint and outside the 3-point arc, but maybe not in the way you would expect.
Jordan Tanner, the Lynx junior floor general at point guard, was the team's most versatile inside performer and Connor Shannon, a 6-foot-5 senior forward, was lethal from long distance.
It may sound odd, but it worked quite well, as they led WCHS to a second straight North Central Conference championship. They capped their season with first-team all-conference honors.
The Lynx tandem was part of the six-man first team. St. Edmond senior Charlie Doyle and Clear Lake junior Zach Lester were unanimous choices; Iowa Falls-Alden senior Jace Ites and Clear Lake senior Thomas Storbeck rounded out the group.
WCHS junior shooting guard Cameron Moen picked up a third-team honor.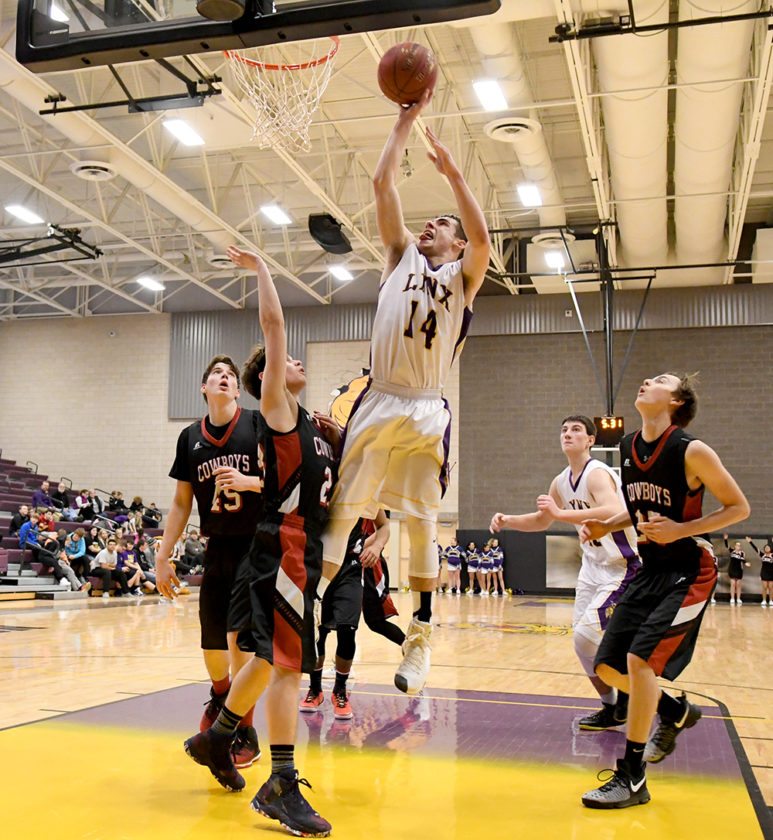 The high marks given to Tanner and Shannon were well received by WCHS head coach Marty McKinney, who says both are deserving.
"We were happy to get two kids on the first team and I think they were both well deserved," he said. "Cameron certainly deserved (his accolade) as well."
Shannon was the lone holdover from the 2015-16 team that claimed the league gold. But going from a supporting role into the spotlight never seemed to bother him. During McKinney's tenure, he became the first Lynx player to average a double-double (13.3 points and 10.7 rebounds per game) and he also led the conference in blocks (1.6 per game).
Shannon shot 51 percent from the floor, including 46 percent from outside the arc.
"Connor really played well and he was a big key to our success," McKinney said. "We knew he could do some things and we knew he could shoot it well."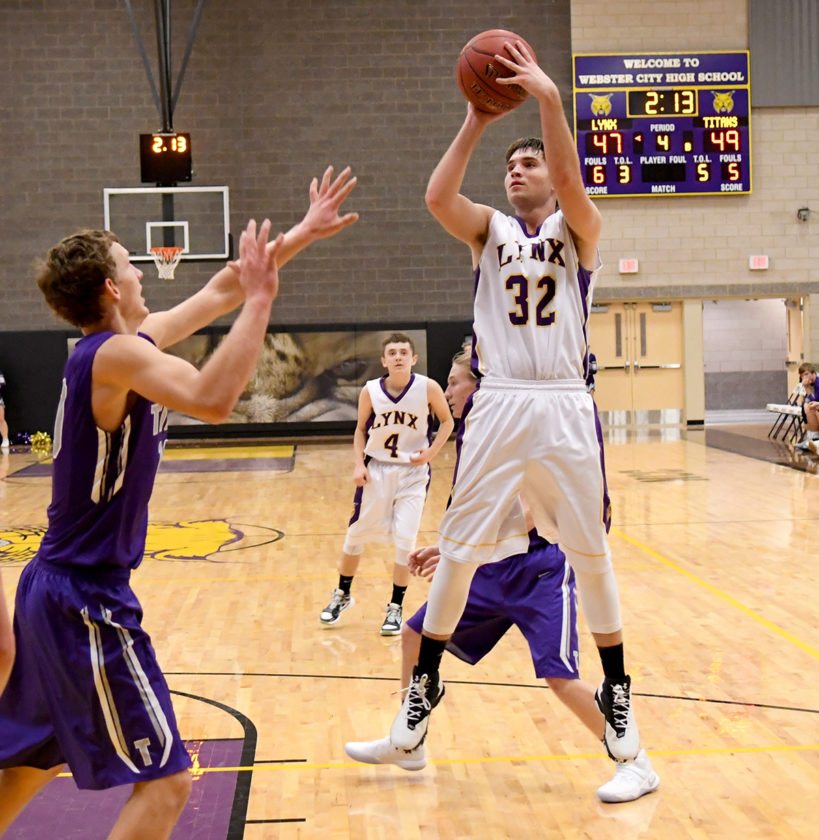 But it was Shannon's steady improvement at the defensive end, particularly on the glass, that arguably most benefited the Lynx.
"He struggled a little bit early against certain guys, but he really improved as the season went on," McKinney said. "As far as defensive rebounding was concerned, he owned the glass. We didn't get out-rebounded very often and a lot of that was because of Connor."
As the only true point guard on the roster, Tanner had a lot thrown on his shoulders from the opening tip in early December. But he flourished in the role and it was his ability to get in the lane and score, as well as rebound at the offensive end, that helped propel him to one of the league's top guards.
"He's definitely unique and we asked an awful lot out of Jordan," McKinney said. "He was probably our best post up player with his back to the basket and he was our best offensive rebounder."
Tanner averaged 14.5 points, 6.4 rebounds and 3.3 assists per game while shooting 54 percent from the floor. McKinney says he will only get better with a year of experience under his belt and an offseason to work on his outside shot. Despite being a guard, Tanner only took 21 3-point shots on the season.
"His shooting will definitely be a key next year," McKinney said. "If he can step up and consistently knock down that outside jumper, then you've got to pick your poison. He would be a nightmare match-up for teams."
Moen put up 10 points, three rebounds and 2.7 assists an outing. He led the team in 3-point baskets with 41 and showed flashes throughout the season of the talent he possesses at the offensive end. McKinney says now he just has to incorporate consistency into his game.
"When Cameron gets it going, he's lights out," McKinney said. "Like all of our guys that are returning, he's got some things to work on and that's the great thing about all of these juniors, with a year under their belt, there's a lot they can improve on to make us better next year."
All-NCC Teams
Boys Basketball
First Team
*Charlie Doyle, sr, St. Edmond; *Zach Lester, jr, Clear Lake; Jace Ites, sr, Iowa Falls-Alden; Connor Shannon, sr, Webster City; Thomas Storbeck, sr, Clear Lake; Jordan Tanner, jr, Webster City.
*Denotes unanimous selection
Second Team
Jackson Helmers, sr, Algona; Riley Helmers, sr, Algona; Drew Thomas, sr, Humboldt; Rhett Darland, jr, Clarion-Goldfield-Dows; Sam Urness, jr, Clarion-Goldfield-Dows; Andrew Gibb, soph, St. Edmond.
Third Team
Devon Clark, sr, Humboldt; Nick Stein, sr, Algona; Cameron Moen, jr, Webster City; Will Weidemann, jr, Clarion-Goldfield-Dows; Will Woodruff, jr, St. Edmond; Drew Enke, soph, Clear Lake.
Final NCC Standings
Webster City 12-2
Clear Lake 11-3
St. Edmond 9-5
Clarion-Goldfield-Dows 7-7
Algona 6-8
Iowa Falls-Alden 6-8
Humboldt 5-9
Hampton-Dumont 0-14
Webster City senior forward Connor Shannon, taking a shot from the perimeter against Humboldt, has been named to the all-North Central Conference first team. DFJ photo/Troy Banning
Cameron Moen, Webster City junior, third-team all-North Central Conference selection. DFJ photo/Troy Banning
Jordan Tanner, Webster City junior, first-team all-North Central Conference selection. DFJ photo/Troy Banning